Shopping Cart
Your Cart is Empty
There was an error with PayPal
Click here to try again
Thank you for your business!
You should be receiving an order confirmation from Paypal shortly.
Exit Shopping Cart
The New Millennial Gay Experience
Being gay in our emerging new world
| | |
| --- | --- |
| Posted on September 30, 2016 at 10:10 PM | |
By Dennis Stone
 I was reading through the most recent edition of "Out" when I came upon something interesting, and, the more I thought about it, mind-blowing. There was a one page trend/style piece titled "The Return Of Grunge." I assume most readers know this, but grunge was originally a new genre of popular music that originated in the mid-1980s and became wildly popular in the early 1990s. Nirvana, led by Kurt Cobain, was the leading grunge band, but Pearl Jam, Stone Temple Pilots and Soundgarden were among many other bands that worked in and expanded the genre.
 But grunge was much more than music. It was also a lifestyle or worldview. In brief, rather simplistic terms, it was about alienation from the popular culture of the time. It was about rejecting the concepts of style and trends. In an echo of the hippies of the 1960s, it was about rebelling against superficiality. Grunge performers and afficionados were overtly non-stylish, dressing in flannel shirts, ripped jeans, old boots, and sweaters that seemed to have been sitting for years in boxes in the attic.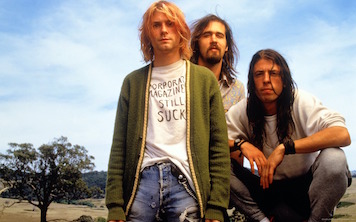 Nirvana at their trendy, stylish best!
 As a concept, grunge was doomed to fail the minute it began to be popular. A philosophy of rejecting style and trends is subverted when it becomes sylish and trendy.
 And now, according to "Out," grunge is back, newly popular, with its sartorial touchstones becoming the height of fashion. Rather ironic. Even more ironic is that the original grunge "outfit" cost next to nothing, with the clothing scrounged from thrift shops, garage sales and attics. But the newly trendy grunge look is anything but cheap. "Out" highlights jeans for $865, a hat for $2800, boots for $1160, and a sweater for $695. My brother went grunge for a while in the 90s, and one of his typical outfits probably cost him less than $50.
 A style that epitomized a rejection of superficiality has now become superficial. A style that rejected the concept of following trends has become trendy. A style that glorified dressing as cheaply as possible has become expensive.
 I'm not sure if I find the irony in the "return of grunge" amusing or if I find it sad. Kurt Cobain would not have been amused.
Categories: Commentary
/