Shopping Cart
Your Cart is Empty
There was an error with PayPal
Click here to try again
Thank you for your business!
You should be receiving an order confirmation from Paypal shortly.
Exit Shopping Cart
The New Millennial Gay Experience
Being gay in our emerging new world
| | |
| --- | --- |
| Posted on March 16, 2017 at 7:45 PM | |
By Dennis Stone
Rachel, Rachel, Rachel….
I love Rachel Maddow, and this week my buddy (I can call her that because every time I watch her show we hit it off so well) was in the news herself in a big way. I assume everyone knows the basic story, but good journalism requires a summary. On Tuesday she tweeted: "BREAKING: We've got Trump tax returns. Tonight, 9pm ET." Understandably, lots of folks went into a tizzy. This was huge news! And, of course, huge numbers of people tuned in to her show that night, many for the first time.
What resulted was far more debacle than triumph. Rachel began the show with her typical twenty minutes of "contextualizing," and then, taking a cue from one of the more infamous traits of "American Idol," went to a commercial break before finally getting to the tax returns. It turns out that she had just two pages of the 2005 return, and the information in those two pages was anything but earth-shattering. They showed Trump earned a lot of money, wrote off some losses, and paid about 25% in income tax, which is higher than Barack Obama and Bernie Sanders have recently paid.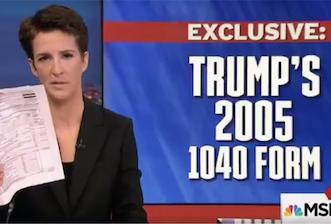 So she wildly overhyped and over-promised, and then delivered results that actually were favorable to Trump, but only after making anxious viewers sit through twenty minutes of buildup AND a commercial break. The blowback was instant and devastating. The most common humorous response was to compare her "big reveal" to Geraldo Rivera's infamous opening of Al Capone's vault with similarly anticlimactic results. "Geraldo's vault" remains to this day a part of popular culture. Trevor Noah of "The Late Show" tweeted: "Listen here, Rachel, telling everyone that you have Trump's tax returns when you just had two pages of his 1040 from 12 years ago? That is not Trump's tax returns. That's like saying, 'I have a tape of Trump saying the N-word,' and you go and press play, and Trump goes, 'Nintendo.'"
Viewers were especially annoyed by the LONG buildup. Actor Kal Penn (and many others) tweeted that they got bored and switched to "Real Housewives Of Beverly Hills." Fifteen minutes into the monologue Nate Cohn of the New York Times tweeted: "More than a million people have signed a petition demanding that Rachel Maddow release Trump's tax returns." Stephen Colbert opened his show with a parody, promising a big Trump-related punchline, then going into a long detailed discussion of domestication of chickens and connections to Russian oligarchs." And on and on.
I am really disappointed in Rachel about this incident. The primary reason is that a good journalist not only produces good content, but also knows her audience and how what she produces will be received. Rachel SHOULD have known that what she had would be a huge letdown in comparison to her initial tweet. She did follow with another tweet shortly before airtime indicating all she had was the 2005 return, but that was too late and likely not seen by many or most viewers. She also should have known that the actual content - ultimately favoring Trump, as many observers have pointed out - would fall short of the inevitable expectations that the hype would portend something seriously damaging.
Lastly, she should have understood that viewers would have no patience for twenty minutes of buildup. Defenders called it "contextualizing," and chided viewers for lack of patience and substance, but they are wrong. Reliably liberal "Slate" said that Rachel "wended her way though what could kindly be described as context and which I am unkindly describing as word salad, a long meander that was difficult to follow even without the distracting promise of a revelatory tax return at its end."
I have been consistently put off by Rachel's long opening monologues, and they seem to have been getting more problematic. She teases interesting information that I'm anxious to hear about, but then goes into long expositions of theory and philosophy and related history. I eventually get bored and either turn the channel or feed the cats or check the program guide for other options. It's not at all that I'm averse to details or theory or depth. The problem is that those things should be discussed AFTER the subject at hand is fully revealed. They are more interesting and more relevant and more concretely understandable if they are connected to the specific subject.
So Rachel, here's my first bit of advice. If you have information of any kind, reveal it right away. If you want to talk about an event or a specific person, tell us up front, and THEN go into the context and detail. That methodology will be far more effective, and viewers will much more gladly get into the weeds of complexity and philosophy.
My second bit of advice: DON'T OVERHYPE! Related to that, if you have something important and you want to tweet it to alert people, don't play games. Just give out the information clearly and honestly.
Here is how I would have handled this situation with Trump's 2005 tax returns if I were a TV pundit. I would have tweeted the info that "We have Trump's 2005 1040 form! Tonight at 9pm ET." MSNBC had reached out to the White House before broadcast, asking for a comment, and they replied by essentially releasing the information themselves. So there really was nothing new that Rachel could reveal. Therefore, I would have started the show by simply telling the story about how the return was sent anonymously to journalist David Cay Johnston, how the White House replied to the request for comment, and what the return shows. I would have stressed it was not a bombshell, and commented on the White House stealing my thunder by revealing the details.
Then, and only then, would I have gone into the context and the related issues. There are a LOT of related issues there, and they are important. The problem is that the debacle of the presentation took ALL the emphasis away from those issues. "Huffington Post" and others tried to return the conversation to those issues, but it didn't work, and no one outside our liberal bubble is talking about them.
Unfortunately, Rachel and I are buddies only in my head, and so I can't give her this advice. But she's extremely intelligent, and perhaps she'll realize some of this herself. I just hope that twenty years from now we're not still talking about Geraldo Rivera's vault and Rachel Maddow's tax returns in the same sentence.
As a postscript, many observers have speculated that Trump himself leaked the tax return because what it reveals is innocuous, and actually puts him in a good light compared to the possibility of what more recent returns could show. That is possible, but I think there is a much more likely explanation. The 2005 return was submitted to the court system as part of the "discovery" process in a suit Trump had brought. As such it was potentially available to many people, any one of whom could have made a copy. It seems too much of a coincidence that the return made available in discovery is the one return now leaked to Johnston.
Categories: Commentary
/